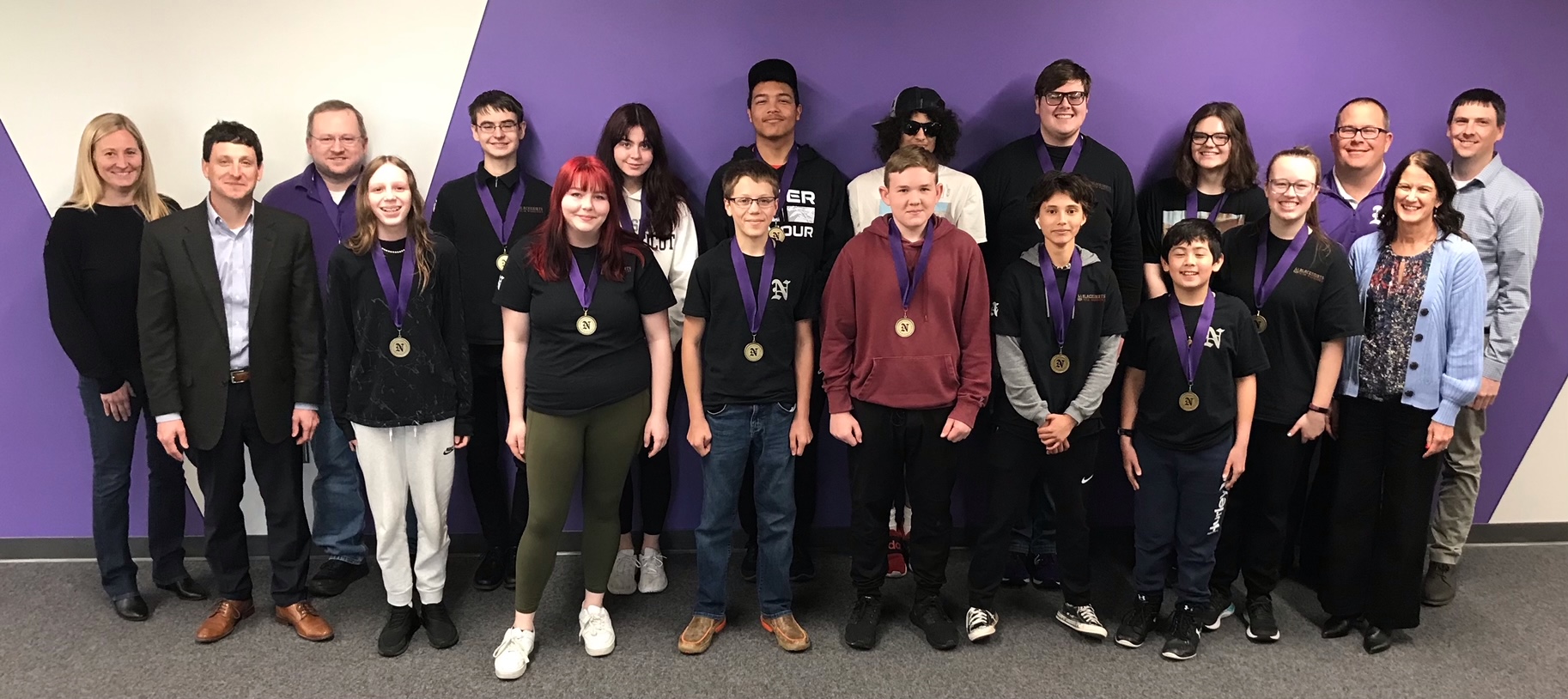 The Norwalk School Board of Directors celebrated the accomplishments of the NHS Blackshirts and MS Tech Warriors at the Monday, April 25th Special Board meeting. These students have worked incredibly hard to enrich the Norwalk community with their support of Norwalk broadcasting and their behind the scenes work!
Team Statistics:
The Blackshirts(all one word) was formed in 2017, with just 3 students participating.
Two of those students are now in college for this career field, one at Bradley(Erech Hazen), and one at Full Sail(Chance McDonald)
The team is now 21 students strong, with no seniors and no MS participants.
At least 3 members of the present crew plan to go to college for technical production education after graduation in 2023.
This year's schedule for the Blackshirts has more than 200 entries on it, listing training meetings, actual performance events, meetings, and only those rehearsals that the students would be in a tech support role.
The NMS team was formed just last year because the Blackshirts team had grown too large to leave room for the younger students to get sufficient opportunities.
It was the first year that 8th graders were not recruited to be part of the Blackshirts.
The NMS team sometimes joins the Blackshirts for joint training meetings.
The Blackshirts wholeheartedly salutes the efforts and success of the NMS Tech Warriors!
Some details about broadcasting in Norwalk Schools:
Our YouTube channel, Norwalk Warrior Productions, has, as of the time of this writing, gathered 2,316 Subscribers.
The channel was started on August 10, 2019.
In those 20 months, our streams and uploads have gotten 179,488 views.
Our most popular event each year is the HS Show Choir's Norwalk Nexus, which was viewed 11,108 times last year, and 6,640 times this year.
This channel hosts streams from all attendance centers, and from both the stadium and the NPAC.
To date, more than 31,600 hours of viewership time has been logged by our viewers.
---