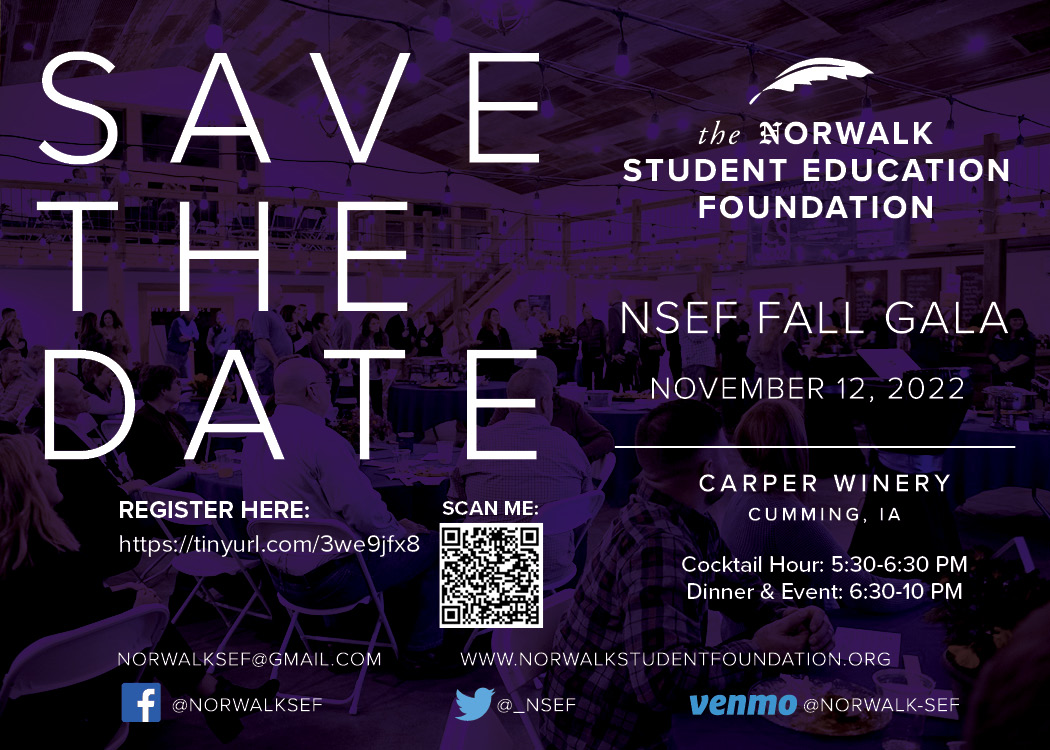 After a two-year pause, the Norwalk Student Education Foundation will host its 2022 Fall Gala at Carper Winery on Saturday, November 12, 2022. This event will feature a cocktail hour from 5:30-6:30, with a seated dinner and live auction to follow. All proceeds generated from this event help support Norwalk schools, students, classrooms, and educators! Don't miss this amazing opportunity to support our community! Claim your seat by registering here: https://tinyurl.com/3we9jfx8
Event Information: 
https://www.facebook.com/events/654836656358567?ref=newsfeed
Register Here: 
NSEF Website: 
http://www.norwalkstudentfoundation.org/
*The Norwalk Student Education Foundation is an independent, community based 501(c)(3) tax exempt organization that is incorporated in the State of Iowa. It is operated by dedicated volunteers that have a passion for education in their community. The foundation is required to file annual reports to the IRS and bi-annual filings to the Secretary of State in Iowa. Donors can be assured that the foundation is operated independently and also makes decisions independently. Funds are administered by the Board of Directors in accordance with the guidelines of the foundation and the donating benefactors.
---